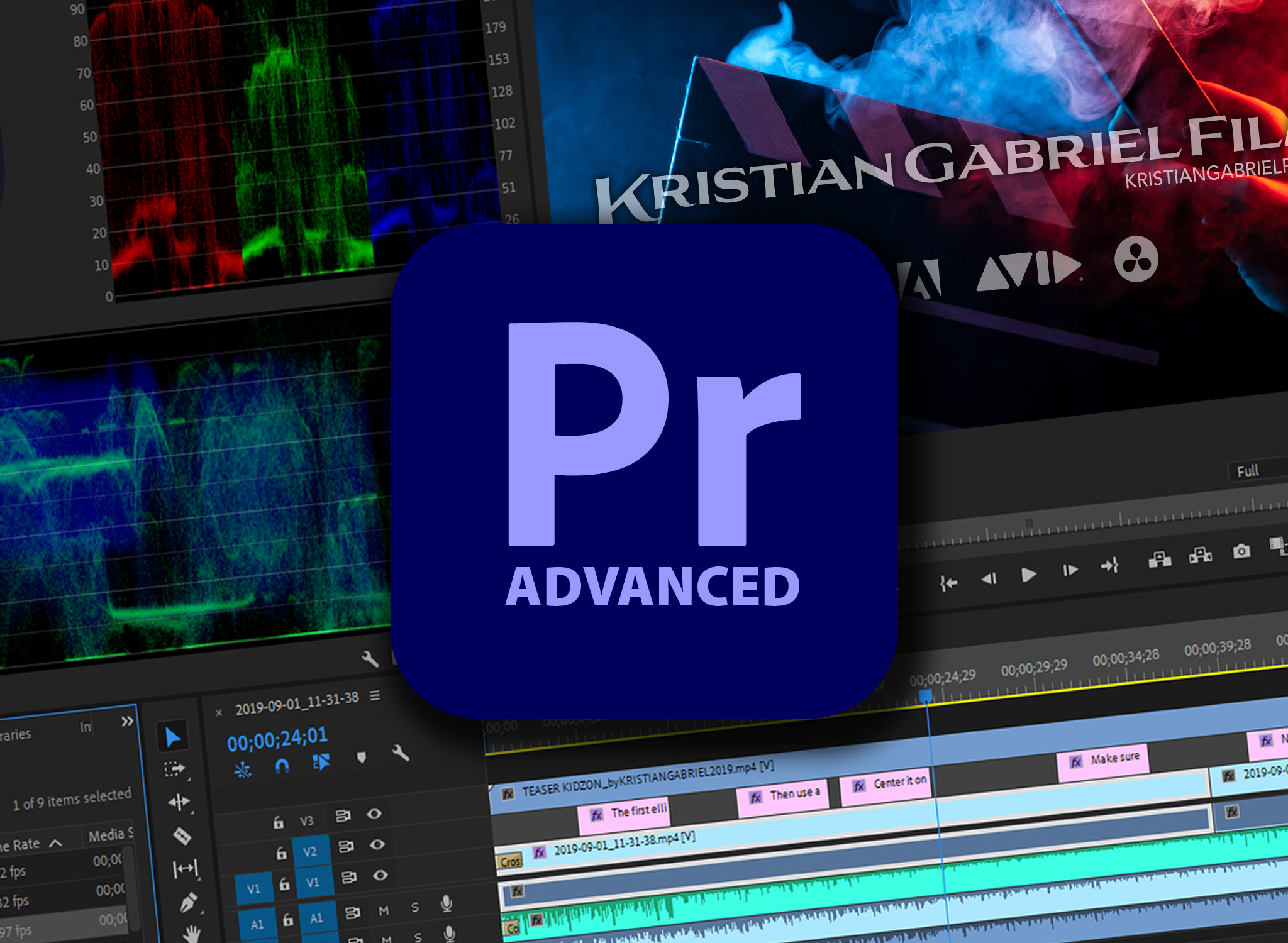 ADOBE PREMIERE PRO ADVANCED OUTLINE
Created & Written by Kristian Gabriel, Adobe Partner, Expert-ACI
The following outline is a base that will be covered in this course. Note that there can be changes or adjustments based on the current state of the Premiere changing feature set. No matter the updates, the training will closely resemble the following topics. The point of this excellent intensive course is to get you up to speed fundamentally in Premiere Pro and be able to fundamentally create a project, bring in audio and video, and edit and export your masterpiece. For more in-depth, please check out my Premiere Pro Advanced Course Outline or just book a custom course learning at your own pace and whatever you would like to focus on.
FOCUS: This class is for those who want to take the next step in working with Premiere, beyond the fundamentals, for ANY situation and workflow including corporate media, broadcast media, film, and personal video projects.
PREREQUISITE: Before taking this course, you should have a basic understanding of creating a project, navigating the interface, working with media, and simple outputs using Premiere Pro.
MODULE 1: PREMIERE POWER FEATURES
Premiere Pro Setups / Hardware Notes
Next Level Project Media Management
Ingest Options and Proxy Workflows
Nesting and Render Options
Subclips and batch processing
Automated Editing
Creative Exporting
MODULE 2: CAPTIONS & TEXT
Premiere and Transcriptions
Language package installations and AI
Caption Standards for Web & Broadcast
Creative Captioning with Graphics
Transcriptions to Captions
Embedded, Sidecar and Burn-in
Premiere and the new Text Editing Feature
MODULE 3: TRACKING & EFFECTS
Keying in Premiere
Masking and tracking
Premiere's Tracking system
Masking & Mattes for ND Transparencies
Different categories of FX
The Multiple Levels of Rendering
Animating: FX Controls vs Timeline
3rd Party Effects you should know about
MODULE 4: ADVANCED PROJECT MANAGEMENT
Working with Web Series, Television, Film
The purpose of working with Productions
Production workflow and breakdown
Project linking and media organization
Working remotely with Frame I/O
Overview of Team Projects (lecture)
MODULE 5: MULTICAM & SYNCING
Exploring Syncing in Premiere
Syncing Manually
Automated Syncing
Multicam Workflows
Sync Mapping & Nested Workflows
3rd Party Syncing Options
MODULE 6: PRACTICAL AUDIO WORKFLOWS
Adobe Premiere and Audition Workflow
Working with cleaning tracks, repair
Multichannel configurations
My Favorite Quick N' Fast Workflow
Quick Mastering for final output / AI Mentions
3rd Party Plugins Mentions & Power Tools
MODULE 7: DYNAMICS & ROUNDTRIPPING
Avid/Resolve & Premiere Workflow
Final Cut Pro & Premiere Workflow
Photoshop/Illustrator & Premiere
After Effects & Premiere
Enhanced Keying and Masking Tweaks
Speeding up dynamics
Troubleshooting dynamics
MODULE 8: ADVANCED WRAP-UP
Color Grading Options & Details
Working with LUTS and beyond
Premiere and Tone Mapping
Key camera formats & color
3rd Party Options for Color in Premiere
Quick Guide on using class materials
Final Words on Premiere