September 13, 2019 | As of today, Blackmagic has officially released their own plugin for Adobe Premiere and Avid Media Composer allowing for full decoding of their popular Blackmagic Raw (.BRAW) format. Blackmagic's own editorial and animation software, Resolve and Fusion has had this addition for a while but this is the first time Blackmagic has reached across the aisle to support their competitors. Of course, adoption of Blackmagic Raw has amazing implications for Blackmagic and all of their hardware and camera products so the move makes sense.
Before today's release, users of Adobe Premiere had to work with a 3rd Party plugin known as Autokroma's BRAW Studio, and there are several reasons to continue using this plugin. Aside from this, users of Premiere Pro now have two choices with more to come in the future.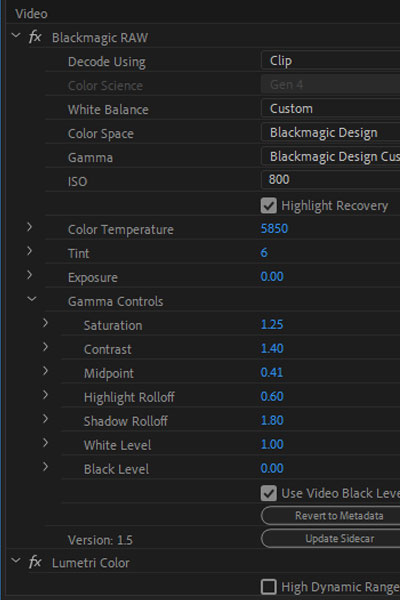 For those living under a rock, Blackmagic Raw is a self-contained raw format much like the format for Red Cameras, R3D. Most of the higher-end raw formats are different and take the form of Raw Image Sequences. This is because traditional and some say "real" raw formats take the form of raw still files versus Video/Audio wrapped formats. To convert video to a series of still files, each frame of video is recorded into a serialized still raw format. This is common for cameras such as Arri Alexa, Sony F55, Blackmagic Ursa and Production 4K Cameras and so many more. BRAW is a self-contained, simplified video file format that is extremely easy to use like Apple Prores or Cineform. While we do have formats like Prores Raw, BRAW has the potential of reaching further than Prores as Apple tends to hold their formats hostage and exclusive to their own software while Blackmagic has released their raw format for everyone, fully open-source, for free.
So, will Blackmagic Raw take over? It definitely has potential. If you would like to download the Blackmagic Plugin for your Adobe Premiere or Avid Media Composer, check out the following links:
BRAW Blackmagic Plugin (Win): https://www.blackmagicdesign.com/support/download/dcfcc373277949df9815ad8ae8377fde/Windows
BRAW Blackmagic Plugin (Mac):
https://www.blackmagicdesign.com/support/download/dcfcc373277949df9815ad8ae8377fde/Mac%20OS%20X
BRAW Blackmagic Plugin (Linux):
https://www.blackmagicdesign.com/support/download/dcfcc373277949df9815ad8ae8377fde/Linux