OVER 20+ YEARS OF EXPERIENCE
CLIENTS & COMPANIES I'VE WORKED WITH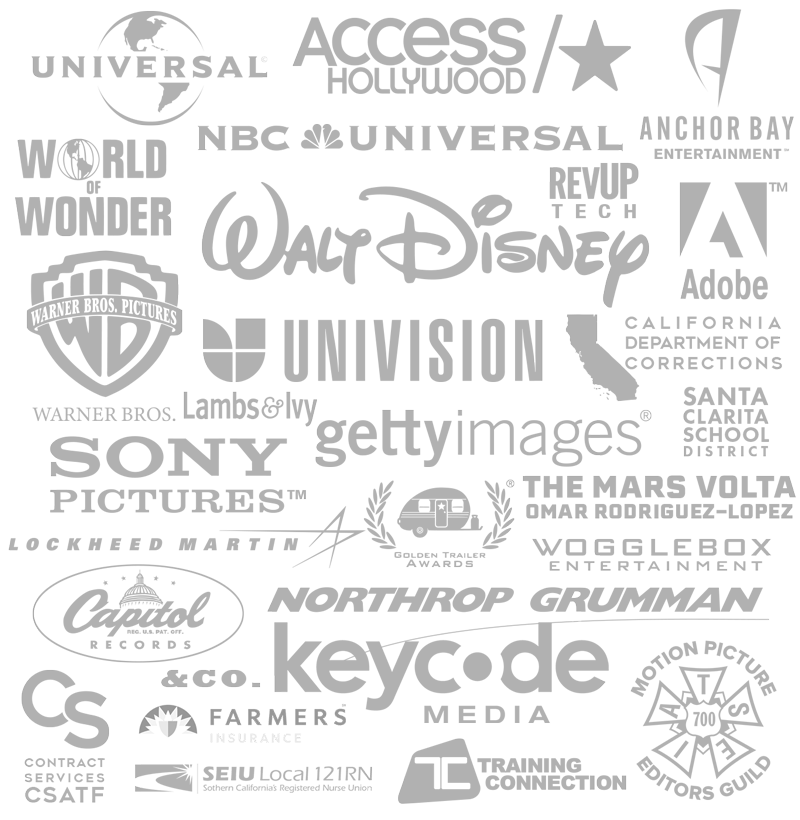 TRAIN WITH A WORKING PRO
Embark on a transformative journey with our distinctive Adobe Training programs, designed to unleash your creative potential. With over 20 years of experience in the entertainment industry, I provide comprehensive courses that extend beyond the typical, instilling not only technical prowess but invaluable industry insights. Whether you're a newcomer eager to break into the creative field, a corporate professional looking to bolster your skills, a filmmaker seeking proficiency in Adobe Premiere, or a graphic designer aiming to perfect your Adobe Illustrator techniques, our tailored, immersive training modules are here to empower you. Explore our Adobe Premiere, After Effects, Photoshop, Illustrator, InDesign, and Lightroom courses and discover the expansive capabilities these tools can unlock. With our seasoned industry expert by your side, you're not just learning Adobe, you're mastering it. Start your journey towards mastery today and check out our courses now. Unleash your creative potential and set your career on an exciting trajectory!
END OF SUMMER SALE
ORIGINAL PRICE

$795

WEEKEND SCHEDULE

June 3-4 Premiere Pro Fundamentals

June 10-11 Premiere Pro Advanced

June 17-18 After Effects Fundamentals

June 24-25 After Effects Advanced

July 1-2 Photoshop Fundamentals

July 8-9 Photoshop Advanced

July 15-16 Premiere Fundamentals

July 22-23 Premiere Advanced

July 29-30 InDesign Fundamentals

Aug 5-6 InDesign Advanced

Aug 12-13 Premiere Pro Fundamentals

Aug 19-20 Premiere Pro Advanced
RESERVE AND PURCHASE YOUR COURSE BELOW!
BENEFITS OF TRAINING WITH ME!
Learn from an industry veteran with over 20 years of professional experience using Adobe applications.
Benefit from real-world insights not just from a certified trainer, but from an active professional in the field.
Leverage the wisdom and practical knowledge of a trainer who's been at the forefront of industry advancements.
Gain an edge with training methods fine-tuned through two decades of practical application and teaching experience.
ACCEPT NO SUBSTITUTES!
WHAT YOU GET
Fully Certified Adobe Trainer

12hrs (2-Days) of Course Training

Free Training Media 4 Practice

Kristian Gabriel's Shortcut Cheat Sheet

Class Video Link To Re-Watch Class!*
Official Certificate of Completion
One Hour Private Followup
*The video link is a private link given only to those who attended the course to watch as many time as they want! Did you miss something in class! Watch the video!
REFUND POLICY
You can cancel the class at any time before the class has started for a FULL REFUND or RESCHEDULE on another date (your choice). If class has already started you can have a partial refund or retake missed class on another date. Have confidence that you will get the training you need at no risk! We will always work with you.
Choose Your Date
Purchase Your Reservations Below
Guaranteed to Run Even If There Only One Person!
Don't See What You Want? Or Want to book sooner or a private session?
Contact me directly and we can schedule you ANY custom situation for you alone or a group. Custom classes are handled by email, however, I will have a custom menu up soon!
COURSE DESCRIPTIONS
More Courses Coming for Film, TV, Social Media and Digital Marketing!
ADOBE PREMIERE FUNDAMENTALS (2-Days)
If you are a first-time Premiere user or coming from another editing application and wish to learn Adobe Premiere video editing from scratch–this course is for you. This extremely thorough course will give you the foundational tools and workflows to edit knowledgeably and efficiently with one of the fastest growing applications in the entertainment industry. This course is perfect for first-time users, professionals transitioning from other editing applications like Avid, FCP and Sony Vegas, social media video editors, corporate media specialists, post-production assistant editors, film/tv editors, and anyone ready to learn this powerful application.
$795 per Individual

$495 Sale!
ADOBE PREMIERE ADVANCED (2-Days)
Are you already familiar with Adobe Premiere? Check out my Advanced Training Course covering advanced timeline editing, working with effects, advanced file management and shared projects, working with audio, color grading, animation and dynamic relationships between Photoshop and After Effects and so much more! Additional workflows include cross-application transfers, proxies workflows, and troubleshooting the most common issues across memory, codecs, application installations and more! Note: This course includes working with Adobe Photoshop, Adobe After Effects, Roundtripping with Resolve and more.
$795 per Individual

$495 Sale!
ADOBE AFTER EFFECTS FUNDAMENTALS (2-Days)
After Effects 101 is for people new to After Effects or users who want professional fundamental training to enhance their After Effects skills. Students will learn how to animate and create motion graphics as well as create animated titles and effects. Additional topics include working in 3D and 3D animation, classic title animating for broadcast or social media, managing your media and projects and working with fundamental effects.
$795 per Individual
ADOBE AFTER EFFECTS 201 ADVANCED (2-Day Class)
The Advanced After Effects course is for people already familiar with After Effects and want to continue to grow their skills. Students will learn to work with 3D and 3D animation as well as the complexity and art of working with cameras and lighting. Other topics in this course include Keying (Green Screen removal), color grading, working HFR (High Framerate Footage), Tracking in 2D/3D and Boris Mocha.
$795 per Individual
ADOBE INDESIGN CRASH COURSE (2-Days)
Learn Adobe InDesign, Adobe's popular layout and publishing application! Whether you are creating an info one-page, a book, flyers, posters…pretty much anything that requires beautifully displayed text, this application is for you. This fundamental course will introduce the student to the interface and navigation of the application including some of the best workflows for 2019. Topics of study will include creating a document, live adjustment features, working in the Properties panel, documents versus master pages, working with repetitive page elements, formatting professional looking text, multi-page documents, working with Paragraph Styles, creating graphics for your documents, importing and exporting documents, client reviews and more.
$795 per Individual
ADOBE PHOTOSHOP FUNDAMENTALS (2-Days)
Adobe Photoshop is one of the most popular and lucrative applications in the world and serves as an essential application for most graphics, video and print workflows. Take this first step to master photography and graphics for any project or workflow. From navigation and new editing workflows to the powerful fundamental toolset and layering magic–this course is for the beginner and professional looking to master this application.
$795 per Individual

$495 Sale!
ADOBE PHOTOSHOP ADVANCED (2-Days)
Ready to take your Photoshop skills to the next level? This course delves deep into advanced selection work, image repair, retouching image techniques, working with shadow and light, compositing techniques (color matching images), working with filter effects, working in perspective, working with 3D, automation, getting cinematic with visual effects (energy effects, fire, etc), organic design effects, creating projects for print, etc. We got you covered.
$795 per Individual

$495 Sale!
ADOBE ILLUSTRATOR FUNDAMENTALS (2-Days)
Want to create logos, graphics, content for print, video or social media? Learn Adobe Illustrator, the number one vector graphics design software used with programs such as Photoshop, InDesign, After Effects and so many more! In this class, you will learn to master the tools of Illustrator to create and manipulate vector graphics. Topics include working with the interface, creating and manipulating shapes, working with vector pathways, creating and manipulating text, text effects, working with vector and raster file formats, manually tracing custom graphics, compound shapes, Image Linking and Embedding, editing PDFs, working to create simple logos and more!
$795 per Individual
ADOBE ILLUSTRATOR ADVANCED (2-Days)
Advanced Illustrator is for individual familiar Illustrator or individuals who wish to continue expanding their skills as a vector graphics artist. Students will learn how to create and track graphics with the Appearance panel, create multi-layered faux 3D content like buttons, headers and footer graphics, lower thirds, and so much more. Other topics include working with Image Tracing, Masking, flowing text, advanced transparencies, Live Paint, creating and managing colors for print and video, spot colors and the Pantone system, working with 3D graphics, creating infographics, advanced graphic layering, working with the perspective grid, working with Photoshop and more!
$795 per Individual
ADOBE LIGHTROOM CC CRASH COURSE (1-Day)
Ready to join the millions of professional photographers and enthusiasts out there in color correcting, managing and organizing, tagging and publishing your photos and images? Embrace the future of photography with a crash course in Adobe Lightroom CC. 
$295 per Individual 
Do you like this video? Click the following link to watch a handful of tutorial video created by Kristian Gabriel. Note: This is a work in progress and I do not publish regularly yet. Once I streamline the tutorial process, publishing will be weekly.